Maria Theresa Thaler
The Maria Theresa (or Theresia) Thaler Coin is one of the oldest coins that are still in circulation today. This Thaler coin, made from silver, went into circulation in 1740 and lasted until the 21st century in Ethiopia and in most areas of the Arab Peninsula. Formerly used by Oman and Muscat as their official currency. Today, the Maria Theresa Thaler coin is still in use in the Middle East and North Africa. The Maria Theresa Thaler coin was first minted in the year 1740 in honor of Austria's Archduchess and Bohemia's and Hungary's Queen Maria Theresia. Queen Maria Theresia was also often called Empress because of her husband Francis Stephen, or Emperor Franz I, who was elected as the Holy Roman Emperor in 1745.
1780 Maria Theresa Thaler – Obverse (Restrike)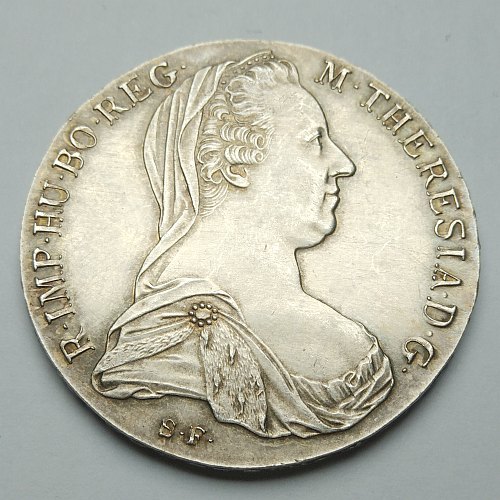 The coin design on the obverse side of this Thaler coin bears the portrait of the queen, wearing a widow's veil and a pearl brooch. The obverse is also inscribed with an abbreviation of the Latin phrase, "Maria Theresia, Dei Gratia Romanorum Imperatrix, Hungariae Bohemiaeque Regina, Archdux Austriae, Dux Burgundiae, Comes Tyrolis. 1780 X". This phrase is translated on the reverse side of the coin as "Maria Theresa, by the grace of God, Empress of the Romans, Queen of Hungary and Bohemia, Archduchess of Austria, Duchess of Burgundy, Countess of Tyrol. 1780".
The coin's reverse side also bears the image of Austria's Federal version coat of arms, the double-headed eagle. Meanwhile, the coin's edge also bears a Latin inscription: "Justitia et Clementia". This is the motto of the queen during her time in power, which means justice and clemency.
1780 Maria Theresa Thaler – Reverse (Restrike)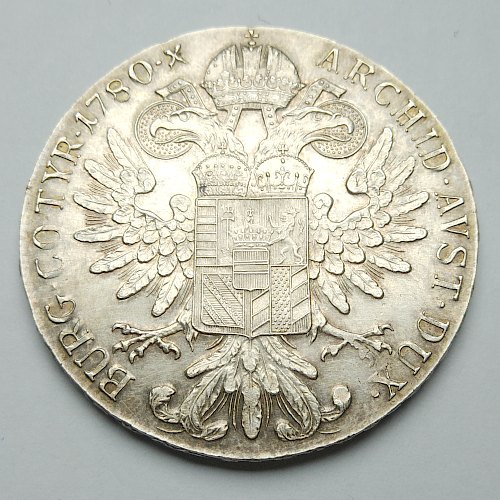 Since 1780, the year when Queen Maria Theresia died, the Thaler coin has been dated 1780. Places that have minted the Maria Theresa Thaler coin include Paris, London, Rome, Hall, Milan, Gunzburg, Prague, Birmingham, Kremnica, Brussels, Vienna, Bombay, Karlsburg and Utrecht. Mints struck from 1751 to the year 2000 totaled to over 300 million coins. The Thaler coin, abbreviated as MTT, became very popular and was spread in circulation across half the globe. MTT was circulated in Africa, Ethiopia, Kenya, Mozambique, Somalia, and Tanzania. The coin also found its way into the Arab regions such as Muscat and Oman, Yemen and the Kingdom of Saudi Arabia. Even Asian countries like India and Indonesia used this Thaler coin for a time. It became so popular and widely trusted that merchants in the Red Sea region would accept nothing but the Maria Theresa Thaler Coin.