Gold & Silver Coin Investment vs Bitcoins!
There are plenty of people worldwide who are looking for opportunities to invest in something since the interest rates that banks have in 2019 are just horrible. In fact, having savings in the bank in certain countries means paying the negative interest rates which those countries have.  That is why some investors are buying bitcoins instead, or trade with large sums of money in the Forex trading business, but both these kinds of investment mean also taking certain risks and the need of being alert at all times. Then you have another group of investors who buy large quantities of gold bars, silver bars or other precious metals and try to generate profit that way. So why not combine the precious metal and the currency factors together and invest in silver or gold bullion coins instead?
Gold & Silver Bullion Coins investment vs Bitcoins!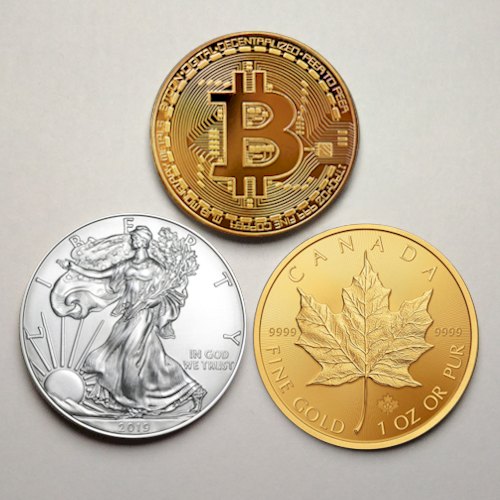 Here are just a few advantages of investing in silver or gold bullion coins.
A newly minted silver or gold bullion coin has 3 values in total. It has a denomination value, a silver or gold value in grams weight, and a collectors value once the coin is not minted anymore. Many of those coins are a legal currency for many years and this means they are always worth that amount or their weight in gold/silver, whatever is higher.  These two factors limit also the risk of losing money, especially when the purchase price was very close to its denomination, gold or silver value.  Once a bullion coin is not minted anymore, the collector's value will go up, but how fast that value will go up depends upon how many bullion coins were minted in total and how many collectors there are for that particular bullion coin in the present time and in the future.
Popular gold and silver bullion coins to invest in are: 
US Mint Gold and Silver American Eagle Coins
Canadian Mint Gold and Silver Maple Leaf Coins
Australian Mint Silver Kookaburra Coins
UK Royal Mint Gold and Silver Britannia Coins
South African Mint Gold Krugerrand and Silver Commemorative coins
Chinese Mint Gold and Silver Panda Coins
When you start investing in gold and silver bullion coins and don't know yet how any of the above particular bullion coin markets behave, then look at the prices of the past issued coins online at auctions and eBay. If you compare the mintage numbers of these coins sold with the mintage numbers of the newly issued bullion coins by mint, then you get a very good impression of how much the value will increase over time with your potential investment. Once you know your particular market I am sure you will agree that buying real gold and silver bullion coins as an investment is much better than buying bitcoins. Sure, some people earned a lot of money with trading in Bitcoins but that also means that others probably lost money as the Bitcoin mining process itself does not go that fast!
The question of "how much can I earn with buying and selling gold and silver bullion coins?" depends actually on your total spending budget and your knowledge of the particular bullion coin market you are investing in. Since this is very time-consuming, it might not be the right type of investment for you if you are looking for fast results like the Forex trading market does offer, but you will be able to sleep well at night and will surely see an increase in value within a time span of two to five years and with a little luck over 50% up to a 100%. If you bought by the way 1000 bullion coins from Mint at the first-day issue and should the dies get damaged right after that, which would make the coin you bought immediate scarce, then it's way more than that, but that is another story!