Coin Grades – FDC, Unc, AU, XF, VF, F, VG, G
Coin grading is very important to mark a specific coin as authentic and it's value. An authentic coin without being graded by an official coin grading authority has a lower value as a coin that is graded by them. Coin grading is done by giving a certain code to the coin. Once graded by an official coin grading company the coin will be placed in a sealed plastic box with the grade of the coin inside the box on it.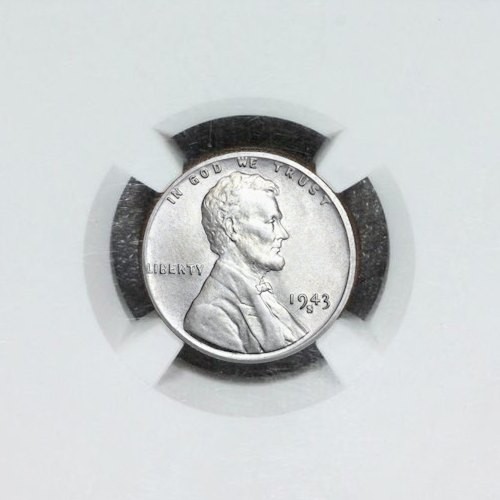 Photo: Unc – Mint State or Uncirculated 1943 Mintmark S Steel Penny
But what do these codes mean…here is a complete coin grading code list,
FDC – Fleur du Coin
Grade Explanation: This only applies to proof coins and these coins are absolutely perfect, without any marks, wear or blemishes.
Unc – Mint State or Uncirculated Coins
Grade Explanation: The UNC graded coins are uncirculated and have totally no trace of wear.
AU – Almost Uncirculated Coins
Grade Explanation: AU graded coins have a small trace of wear visible on the highest points.
XF or EF – Extremely Fine
Grade Explanation: XF grade coins (or EF) have very light wear on only the highest points.
VF – Very Fine
Grade Explanation: VF grade coins have a light to medium wear. All major features are sharp.
F – Fine
Grade Explanation: F grade coins have moderate to heavy even wear. The coin design is clear and bold.
VG – Very Good
Grade Explanation: VG grade coins are well worn. The design is clear, but flat and with lacking details.
G – Good
Grade Explanation: G grade coins are heavily worn. The design and legend are visible but faint in spots.
AG – About Good
Grade Explanation:  AG grade coins have an outlined design and parts of date and legend worn smooth.
Fair – Fair State
Grade Explanation: With a coin that has been graded as fair you can identify the coin as to its type.
Basal – Basal State
Grade Explanation:  With a basal graded coin you can identify the lump of metal as being a coin.
Most coin collectors are collecting coins who are graded VG or better since the design should be recognizable. The higher the coin grade of authentication, the higher the value of the coin will be when sold.