1894 Morgan Dollar – Mintmark: O, New Orleans
From the 1894 morgan dollar with the mintmark O from New Orleans, there are still many coins in circulation and for this reason, it's an easy collectible silver coin. The 1894 morgan dollar with no mintmark, so struck in Philadelphia are more wanted as there are only 110,000 circulation strikes and 972 proofs made.
Some 1894 morgan O silver dollar coin facts.
Mintage: Circulation strikes: 1,723,000 / Proofs: 0.
Designer: George T. Morgan.
Diameter: 38.1 mm.
Composition: Silver (90%) and Copper (10%).
Weight: 26.73 grams.
Edge: Reeded.
Mintmark: "O"  (for New Orleans)
Here below are the images from an authentic morgan dollar dated 1894 and a counterfeit with the same year.
Authentic 1894 Morgan Dollar – Obverse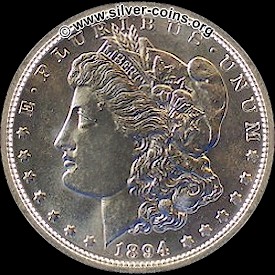 Counterfeit 1894 Morgan Dollar – Obverse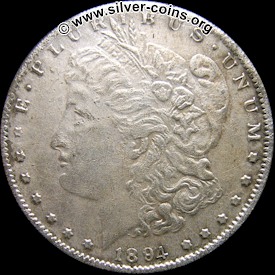 When comparing both 1894 morgan dollars the following differences are easy to see on the counterfeit coin and not on the authentic morgan coin.
The numbers are not identical, note the 9 and 4 especially.
The letters are not exactly the same.
There is no copper edge, all one light metal made coin.
In general very soft details and very slick surfaces.
Authentic 1894 Morgan Dollar – Reverse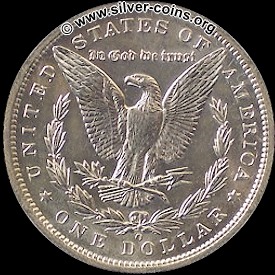 Counterfeit 1894 Morgan Dollar – Reverse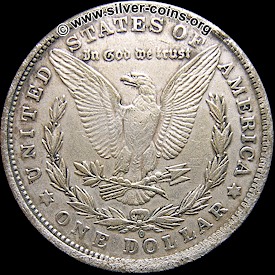 The reverse side of the counterfeit morgan was having much more details than the obverse side, normally this would have been equal. The stars on the side at the "ONE DOLLAR" text are just too big compared to the authentic morgan dollar. Also here are the letters not the same, just see compare some letters and noticed some size differences.