1885 Morgan Silver Dollar
The 1885 morgan dollar did get his name from the designer, George T. Morgan. Morgan dollars were made from 1878 to 1921 and some years are very scarce, difficult to find and expensive to buy, mostly on auctions. The year 1885 is not even so special in this matter as there are many authentic 1885 morgan silver dollars in circulation but still, they are making in China counterfeit coins with this date.
Some 1885 morgan silver dollar coin facts.
Mintage: Circulation strikes: 17,787,000 / Proofs: 930.
Designer: George T. Morgan.
Diameter: 38.1 mm.
Composition: Silver (90%) and Copper (10%).
Weight: 26.73 grams.
Edge: Reeded.
Mintmark: None.
Here below are the images from an authentic and a counterfeit morgan silver dollar coin, both showing the year 1885.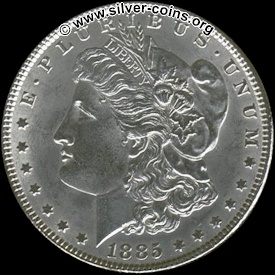 Counterfeit 1885 Morgan Dollar – Obverse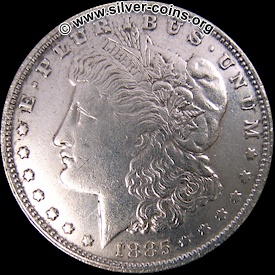 When comparing both 1885 morgan dollar coins the following differences are easy to see on the counterfeit coin and not on the authentic coin.
The numbers are not identical, note the one and five especially.
The letters are not exactly the same, but sometimes too hard to notice.
The stars are too big and too flat compared with the authentic coin.
In general soft details and slick surfaces.
Authentic 1885 Morgan Dollar – Reverse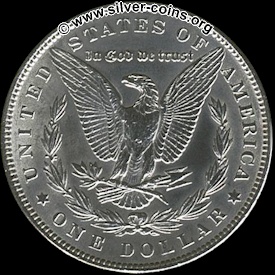 Counterfeit 1885 Morgan Dollar – Reverse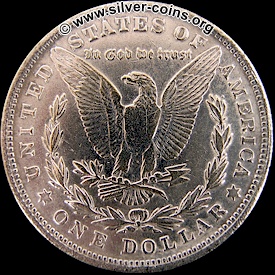 The reverse side of the counterfeit morgan coin we did use for this example was having, of course, the same soft details as the obverse side and in general, this is the easy way to recognize a Chinese counterfeit coin.