1924 Peace Dollar – Liberty Dollar
The Peace Dollar was minted in the years 1921 till 1928 and after a 6 year rest period again in the years 1934 and 1935. Before the first peace dollar was struck there was a proposal to mint the first peace dollars as commemorative issues, to celebrate the end of World War 1 (1914 -1918) but this never happened so the first peace dollar was issued as a normal circulated peace dollar instead. In 1965 some peace dollars were minted (dated 1964) but none of these 1964 peace dollars were issued for normal circulation. All examples of this issue were never released to the public and were all melted.
Some 1924 peace dollar coin facts.
Mintage: Circulation strikes: 11,811,000 / Proofs: 0.
Designer: Anthony de Francisci.
Diameter: 38.5 mm.
Composition: Silver (90%) and Copper (10%).
Weight: 26.7 grams.
Edge: Reeded.
Mintmark: Below the ONE (reverse) or none for Philadelphia.
Here below are the pictures from an authentic 1924 dated peace dollar and a counterfeit peace dollar with the same year on it.
Authentic 1924 Peace Dollar – Obverse (Liberty)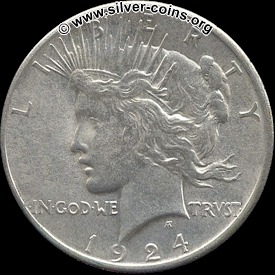 Counterfeit 1924 Peace Dollar – Obverse (Liberty)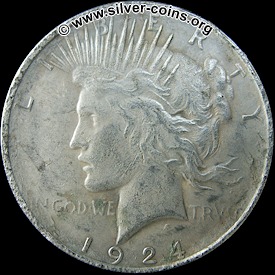 When comparing the images from the two peace dollars above, both showing the date 1924, the following differences are easy to see on the counterfeit coin and not on the authentic peace dollar.
The numbers are not the same, note the 1 and 4 especially.
The small "IN GOD WE TRUST" letters are not the same also.
The mark above the 4 is very slick, even other details are not.
In general very soft details and slick surfaces.
Authentic 1924 Peace Dollar – Reverse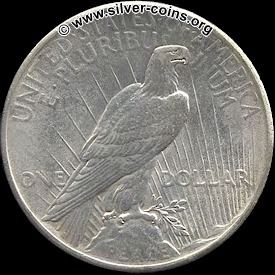 Counterfeit 1924 Peace Dollar – Reverse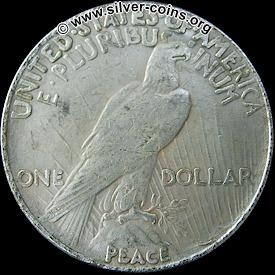 The reverse side of the counterfeit peace dollar was having very fat letters still but the eagle itself was very slick. As you can see this looks totally different from a normally worn peace dollar like the authentic one we used for this example. We have had the choice to use a more detailed authentic peace dollar instead of this example as there are still plenty available, but for comparing this coin we have chosen this peace dollar instead to present a better comparison for our visitors.