1926 Peace Dollar – Liberty Dollar
I think that from all years the Peace Dollar was struck (1921 -1928) (1934 -1935) there are Chinese made counterfeit peace dollars in circulation. Most of these counterfeit dollars, like the one we are showing on this page, are made from copper with a very thin silver layer. We used some silver dip on the counterfeit coin to show you that copper layer.  We said most counterfeit coins as we have also one which has been made from a sort of composite metal which does not show a lower layer when polished.
Some 1926 peace dollar coin facts.
Mintage: Circulation strikes: 1,939,000 / Proofs: 0.
Designer: Anthony de Francisci.
Diameter: 38.5 mm.
Composition: Silver (90%) and Copper (10%).
Weight: 26.7 grams.
Edge: Reeded.
Mintmark: Below the ONE (reverse) or none for Philadelphia.
Here below are the photo's from an authentic 1926 peace dollar and a counterfeit 1926 peace dollar.
Authentic 1926 Peace Dollar – Obverse (Liberty)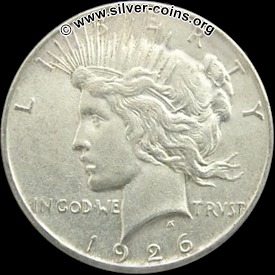 Counterfeit 1926 Peace Dollar – Obverse (Liberty)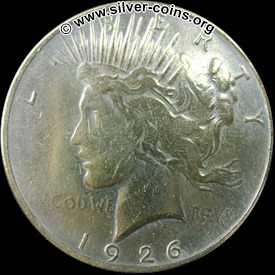 When comparing these 1926 peace dollar pictures, the following differences can be noticed on the counterfeit coin and not on the authentic 1926 peace dollar.
The numbers are totally not the same, not even one comes close.
The small letters with the text "IN GOD WE TRUST" are not the same.
Very soft details (head of liberty) and slick surfaces in general.
Authentic 1926 Peace Dollar – Reverse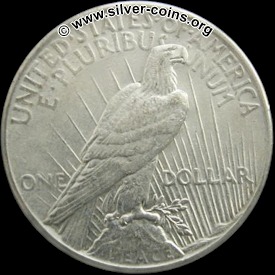 Counterfeit 1926 Peace Dollar – Reverse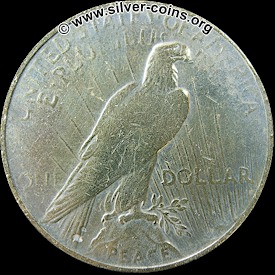 The reverse side of the counterfeit 1926 peace dollar was having very slick details. What can be noticed also are the 2 dents located at the eagles tail when you look closely. These dents are probably caused by the Chinese coin dies who weren't that perfect.