2006 Panda Coin – Silver Chinese Panda Coins
Silver Panda coins are very nicely designed silver bullion coins struck by Chinese mint with a purity of 99.9% silver. Chinese Panda coins are struck since 1983. The designs are made by the Chinese government with no specific designer name. Panda coins struck before 2006 were issued in an original plastic bag and the 2006 panda coins are now sealed in an original hard plastic round holder.
Some 2006 Chinese panda coin facts.
Denomination: 10 Yuan.
Obverse design: Temple of Heaven in Beijing.
Reverse design: A mother and baby panda.
Diameter: 39.0 mm.
Composition: Silver 999 / 1000.
Weight: 31.22 grams.
Here below are the images from an authentic 2006 Chinese made silver panda coin and a Chinese made counterfeit panda coin from the same year.
Authentic 2006 Panda Coin – Obverse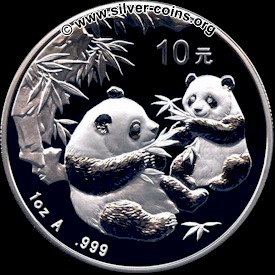 Counterfeit 2006 Panda Coin – Obverse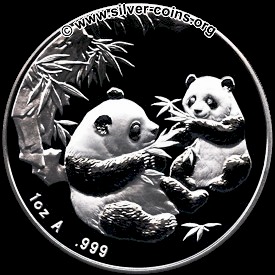 When comparing both 2006 panda coins, the following differences can be noticed on the counterfeit panda coin and not on the authentic Chinese panda coin.
The reverse side of the counterfeit panda coin was having no denomination and this can also be seen on many fake panda coins from previous years.
Also, there are minor differences in the design. Just compare the bamboo leaves on the ground and the tree-tame at the side of the panda's arm.
Authentic 2006 Panda Coin – Reverse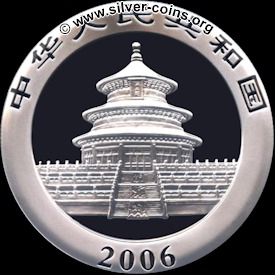 Counterfeit 2006 Panda Coin – Reverse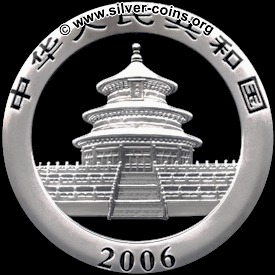 The stairs on the Temple of Heaven in Beijing have no signs in the middle.
The side of the stairs is totally flat which normally is not like that.
Because both coins are made in China it could be true that only fake coins with no denomination on it are legal to make by the Chinese government else there would be a denomination on it for sure. The fake panda coins are silver-plated, and if you see this in a specific auction then you know also that they are fake coins. I would advice to buy only Chinese panda coins from trusted coin dealers if you are not a coin expert in seeing the differences between fake and real panda coins. A fake panda coin is worthless and a real silver panda coin, like the ones graded by the NGC, is a good investment for later and in the meantime nice to collect.