Coin Collecting References – Books
Nothing beats having good references in whatever you are planning to do. In any endeavor, it pays to do your homework by researching and equipping yourself with valuable knowledge. This habit will put you right on track. The same goes for coin collecting. Before you make any purchase, especially large ones, you must first acquaint yourself with the hobby. There are a lot of references available on the internet – you will find here feature articles, magazines, books, and even e-books about coin collecting. These references will help you understand what you're getting into and how are you going to get the most out of it. And even if you are already an old-timer in the hobby, you still need to look at these references from time to time so you will be updated with the latest on coin collection. Of course, you will want to learn about new discoveries, upcoming coin collecting events, and price trends.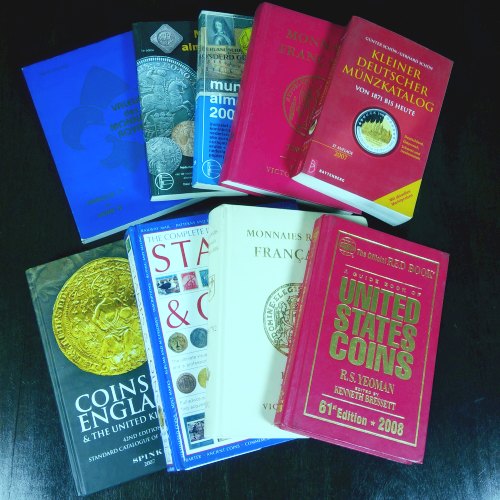 Photo: Coin reference books.
When going to a coin show, a coin collection guide book would come in handy as a quick reference on the coins that you will see in the show. You can bring your book to the show and consult with it every time you see a coin that interests you. This will help you decide on making your purchase later on.
Coin collecting references also make a nice display in your living room and can be a source of inspiration for those who are not into the hobby yet. If you have kids at home, it would be a great way to rouse their interest in such a fine and classy hobby. There are also coin collecting books for kids, which are more colorful and more appealing to kids. Having coin collecting references in your house will also complement your coin collection for when you show your collection to visitors. It can help you explain and give a better understanding of your fascination with coin collecting.
If you don't know any coin collecting reference books, here are some titles that you can find in bookstores and online stores such as amazon.com.
Ancient Coin Collecting
Ancient Coin Collecting II: Numismatic Art of the Greek World
Ancient Coin Collecting III: The Roman World-Politics and Propaganda
Ancient Coin Collecting IV: Roman Provincial Coins
Ancient Coin Collecting V: The Romanian/Byzantine Culture
These 5 Ancient Coin Collecting books are all written by Wayne G. Sayles.
Coin Collecting for Dummies by Ron Guth
Coin Collecting for Kids by Steve Otfinoski and Jack Graham
Coin Collector's Survival Manual by Scott A. Travers
New York Times Guide to Coin Collecting, The by Ed Reiter
One-Minute Coin Expert by Scott A. Travers
Planning Your Rare Coin Retirement by David L. Ganz
Statehood Quarters Collecting Kit by Whitman Coin Products
Those Amazing Coins: A kids guide to coin collecting by R. Volpe & K. Flynn
U.S. Rare Coin Handbook by Les and Sue Fox
Whitman Guide to Coin Collecting, The by Kenneth Bressett
Comprehensive Catalog and Encyclopedia of U.S. Coins, The by Coin World: edited by Brad Reed
There are also lots of magazines and newsletters about coin collecting. You can also find them on the internet.