1862 Liberty Seated Dollar
The 1862 liberty seated dollar is a hot collector's item because not so many pieces where made. Because of the American civil war (1861 – 1865), gold and silver were scarce and also needed and that is the reason that not many coins from this date are left these days. The 1862 liberty seated dollars that are sold are easy over $5000 at online auctions and sometimes eBay.
Some 1862 liberty seated silver dollar coin facts.
Mintage: Circulation strikes: 11,540 / Proofs: 550.
Coin designer: Christian Gobrecht.
Diameter: 38.1 millimeters.
Composition: Silver (90%) and Copper (10%).
Weight: 26.73 grams.
Edge: Reeded.
Mintmark: Below the eagle on the reverse. (None for Philadelphia)
Here below are the images from an authentic and counterfeit 1862 liberty seated dollar.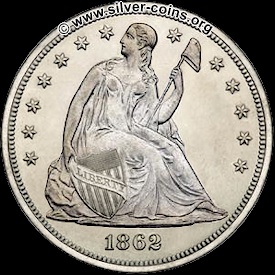 Counterfeit 1852 Liberty Seated Dollar Obverse Side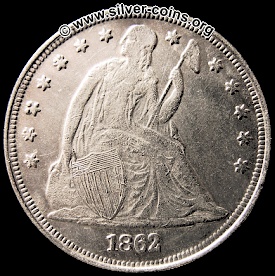 When comparing both 1862 liberty seated coins the following differences are easy to see on the counterfeit coin and not on the authentic coin.
The numbers are not identical, note the six and two especially.
Even the Liberty shield is in good shape there are no words "liberty" on it.
The Liberty shield lines are not straight and in blocks.
Some of the stars have a dots in between the edges.
In general soft details and slick surfaces.
Authentic 1852 Liberty Seated Dollar Reverse Side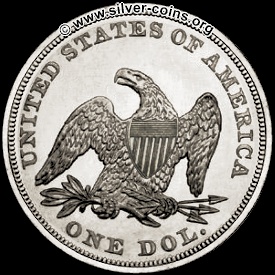 Counterfeit 1852 Liberty Seated Dollar Reverse Side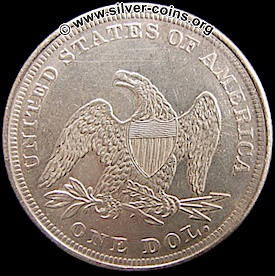 The reverse side of the counterfeit coin we did use for this example was of better quality than the obverse side but still, you can see that the details are too soft in general.