I want to sell my coins.
Question asked: I want to sell my coins, are you interested in buying?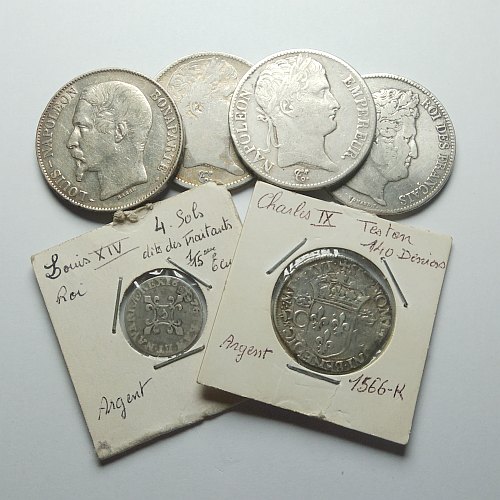 Photo: A lot of authentic french silver coins
Answer: We, the owners of "silver-coins.org" are coin collectors at the same time but we do not buy coins from individual sellers we don't know. It would be plain stupid from us to buy coins from individual coin sellers not knowing their intentions and reputation in coin trading when at the same time we advise our visitors to "find a trustworthy coin dealer" to do business with.
If you want to sell your coins, put them on eBay if the coins you own don't have a high expected value. In case the coins do have a high expected value according to coin catalogs then we advise the owner to let your "coins grade" first by one of the official coin grading companies and then sell your coins at a coin auction. After grading you could also sell your coins on eBay but be aware that if you never sold any coins on eBay before, your reputation is zero and you might not get the same offer a trustworthy coin dealer with a good reputation on eBay does.
For anyone who wants to make a living selling coins your reputation is the most important part of doing business. Each coin dealer knows this and will be aware that he needs to be trading 100% honest and that he treats all costumers fair. He can simply not afford to have one unhappy client who feels like being cheated by him resulting in many negative posting on coin collector forums which will cost him his business sooner or later.
If you have a coins related question and can't find the answer, ask us and find the answer soon in the FAQ section from this site.